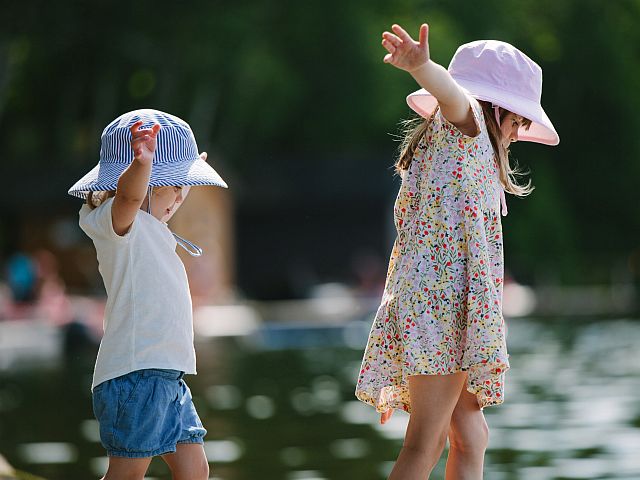 Outdoor play is an important part of childhood. Children spend more time outdoors than adults and often 80% of their total lifetime exposure to the sun's broad spectrum radiation occurs before the age of 18. The negative effects of solar radiation are accumulated during ones entire lifetime so early exposure results in long term skin damage and a higher incidence of adult malignant melanomas.
There is no need to avoid outdoor activities if you have the right protection for their skin.  Start with a great hat that has a sun protection rating of UPF50+ Excellent Sun Protection.  This means that the hat has been tested and proven to block at least 98% broad spectrum UVA and UVB radiation. Check for testing standards on the hang tag. 
A wide brim that doesn't flop will maximize coverage of your child's face and neck. Make sure the hat fits your child properly so they will be comfortable in it and want to keep it on their head.  A chin tie with a safety break away clip will keep the hat in place as they explore the outdoor world. Use a high SPF sun lotion on their face to protect from rays reflected off water and surfaces.
All Puffin Gear® sun hats are tested and rated UPF50+ Excellent Sun Protection.
Our  Wide Brim Sunbaby Hat provides maximum coverage. The brim is scaled according to size but on average is three inches wide. Complete with a chin tie with cord lock and breakaway clip to keep hat safely in place. Prewashed so you can machine wash and available in beautiful prints or solids. 
Our Kid's Camp Hat is a bucket style hat with a narrower brim. It allows for a good vision range  for very active play. Your child will love the fun prints and bright colours. A chin tie with cord lock and safety break away clip will keep it on.
For infants a UPF 50+ Protection Bonnet is an excellent choice for sun protection. These bonnets are as cute as they are sun protective. Bonnets provide full coverage of ears and back of neck as well as shading of the face. A chin tie with a toggle and safety breakaway clip makes it easy to put the bonnet on and keep it in place. Choose from beautiful cotton prints or linen solids.