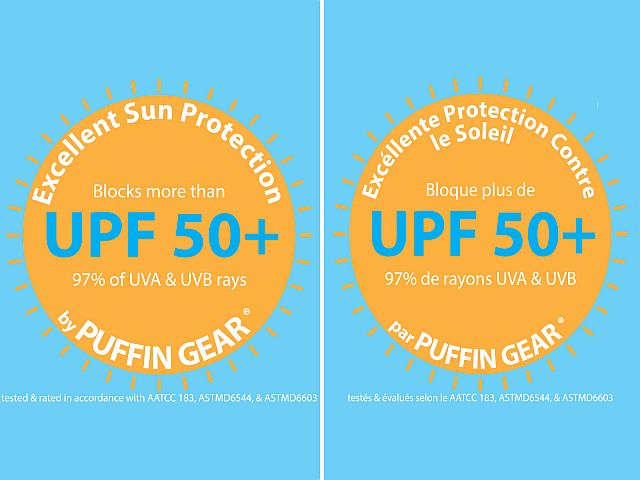 What is difference between UPF and SPF?
There are two kinds of skin-damaging ultraviolet rays. Long wave UVA rays and medium wave UVB rays. Both are harmful and link to skin cancer and aging. UVB rays cause sunburns. UVA rays penetrate windows and are responsible for tanning and premature aging.
UPF refers to the Ultraviolet Protection Factor UPF which is a measurement of the amount of UVA and UVB rays that a fabric blocks. 
SPF refers to the Sun Protection Factor which is a measurement of the amount of UVB rays a sunscreen lotion will block.  The lower the number, the faster you'll burn. Sunscreen should be reapplied regularly, at least every two hours.
What does UPF50+ Mean?
Fabric can be tested and receive a UPF50+ Excellent Sun Protection.  This means that your hat or garment blocks more than 98% of broad-spectrum UVA and UVB radiation.  This is the highest rating achievable.  You should also use a high SPF sun lotion on your face and other exposed areas. 
What is the best sun protection clothing?
Look for clothing that has been tested and achieved a UPF50+ Excellent Sun Protection Rating.  High UPF fabric ratings are achieved by a very tight weave and the finishing process.  Nylon and polyester disrupt UV rays well, much better than natural fibres such as linen and cotton.  Heavy wools, canvas and leather also provide better protection.
What is the best hat to wear in the sun?
Safeguard against wrinkles and skin cancer with a great hat.  The best hat will have at least a three inch brim that shades the face, scalp, neck, shoulders and ears. Basal cell and squamous cell carcinomas account for approximately 90 percent of all skin cancers and usually appear first on the head and neck. Avoid loosely woven hats or straw hats.  It is best to buy a hat that has been tested and achieved a UPF rating. 
Puffin Gear® hats combine beautiful lightweight natural fabrics with a UPF50+ rated breathable nylon lining inside the crown and interior to the brim.  The result is a hat that has the highest UPF rating available in the market and is lightweight enough that you won't overheat.